We Help You Get Back In Harmony
Our bodies have an innate ability to heal themselves. It is our goal to help empower and re-connect you to the power you hold within yourself.
We provide a supportive environment that will allow you to be in the moment, it is here where healing happens. Whether it be in a warm pool for aquatic therapy or our soothing massage room, you will have space to re-connect with your body and be guided back to optimal health.
Chronic Pain & Injury Rehabilitation
$110 Focus Session– 60-minute bodywork session with focus on 1 or 2 problem areas
$220 Back in Harmony– 120-minute bodywork session geared towards bringing your whole body back into alignment
Refer 3 new clients and get 1 free 60 minute massage
We specialize in injury rehabilitation and chronic pain relief for the following:
rotator cuff or shoulder injury
frozen shoulder
shoulder surgery
sciatica 
hip pain
low back pain
low back surgery
neck surgery
neck pain
headaches/migraines
sports injuries
fibromyalgia 
You may experience these as sharp pain, shooting pain, achy pain, dull pain, numbness, tingling, weakness, a twinge, tweaked muscles, "I turned the wrong way", a crick in the neck, or our personal favorite "I'm getting old".
If any of these are true for you, we'd love to help!
We use the following techniques to achieve transformational results:
Deep Tissue
Biodynamical Craniosacral
Mechanical Craniosacral
Proprioceptive Neuromuscular Facilitation
Positional Release Technique
Myofascial Release
Trigger Point
Stretching
Clearing of trapped emotions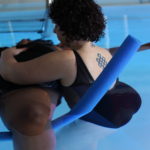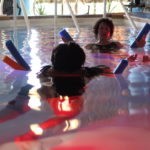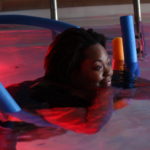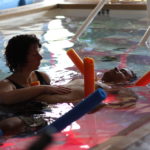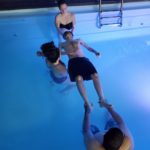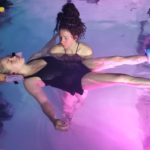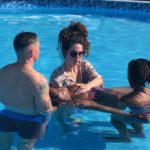 Our Aquatic Therapy sessions are done in warm pool using flotation tools where needed. Once in the pool you will lay on your back with the support of your therapist(s), and the only thing for you to do is focus on the warmth of the water while you float effortlessly.
With the support and compassion of your therapist, your body will move and open up space for you to clear blockages and pain caused by old injuries, hurts, and traumas. 
While you will be able to remember your past hurts, it is our goal to support you while you re-write them without the emotional charge so you can transform pain into progress.
We offer individual and group sessions. 
Private sessions last anywhere between 45 minutes to 75 minutes depending on what your body is needing that day.
Group sessions last 20 minutes to 30 minutes per person
Looking to buy a gift card for your loved one?